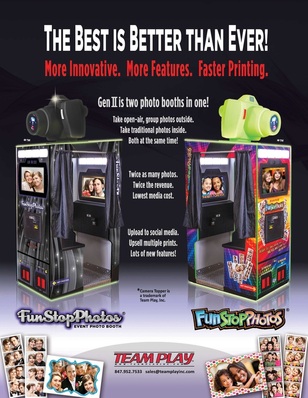 The once lovely Fun Stop Photos photo booth was lying on the ground – crunched, smashed, totaled, ruined, destroyed, and annihilated.  Onlookers wondered, "Is it dead?"
It sure looked dead.
Despite thunderstorms and ugly weather, Team Play's VP of Marketing, Geno Giuntoli, valiantly traveled from Team Play's offices in Elk Grove Village, Illinois to Minneapolis.  He would be exhibiting Team Play's enormously popular Fun Stop Photos photo booth and hit videmption game, Fishbowl Frenzy, at Moss Distributing's 2015 trade show.  At least, that was the plan.
Imagine Geno's despair shortly before the show opening when he learned that the photo booth had been dropped.  If the photo booth was damaged, there would be no way to get a replacement photo booth to Minneapolis in time for the show opening the next day!
Tragically, the photo booth was not "dropped" as in drop shipped or dropped off early.  Not "dropped" as in dropped off its pallet or tipped over.   Not even "dropped" as in dropped off a forklift.  This Fun Stop Photos photo booth had been Dropped – with a capital "D" – off the bed of a semi‑truck four feet in the air, onto the unforgiving concrete pavement below.   That's a pretty serious event for a heavy and complicated photo booth which sports two LCD monitors, two digital cameras, and an assortment of hard drives and sensitive electronic components!
After tumbling its full 500 pounds off a truck and falling over four feet onto the rock-hard concrete below, Geno's Fun Stop Photos photo booth lay on its back, winded and wounded.  (Fortunately, no humans or animals were injured during this event.)
Was it dead?  It sure looked dead.