Team Play's Owners
Ken Fedesna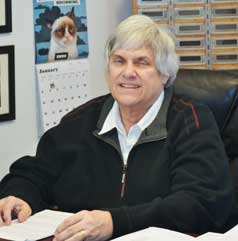 Ken Fedesna has been in the coin-op video game industry for 37 years. He spent the majority of his career with Williams and Bally/Midway in Chicago, where he enjoyed a highly-successful career managing the development of pinballs, coin-operated and consumer video games, and gaming equipment.
Ken has a Master's Degree in Electrical Engineering from IIT and started his career with Motorola. During his 27 years with Williams and Bally/Midway, Ken managed the development of pinballs, video games, video lottery terminals and casino gaming slot machines. Williams is known for hugely popular video game hits such as Defender, Stargate and Mortal Kombat. Ken was the highly-respected VP/General Manager of WMS Industries and Executive VP/General Manager of Midway Games, where he was responsible for managing the design and engineering of coin-operated video games and consumer video games.
After a very successful career as a respected executive with Williams and Midway Games, in 2004 Ken left to form Cashbox Games, Inc., which designed and manufactured redemption and merchandising equipment. Ken also collaborated with Ed Pellegrini, Frank Pellegrini and a group of partners to create the White Rabbit Game Studio. White Rabbit developed the Playport countertop video game system (AMOA's "Most Innovative Product" in 2008) which ultimately was sold to TouchTunes.
In 2009, Ken joined Frank and Ed as a co-owner of Team Play, Inc., where Ken manages Team Play's redemption game development. Ken and his team of software engineers have created Team Play's most recent redemption games, including Pirate's Booty, Prize Hoops and Fishbowl Frenzy (IAAPA's "Best New Coin-Op Product" in 2014).
Ken brings to Team Play his extensive knowledge of the Design and Development aspects of the coin-op industry. Ken is happily married to Brigitte Fedesna and is extremely proud of his zoo-keeper daughter, Jennifer. Ken and Brigitte share their home with two cats.
Ed Pellegrini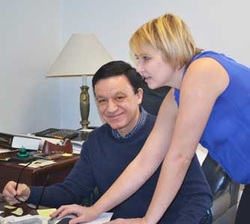 Ed Pellegrini (shown with his daughter, Kim) started his coin-op career 37 years ago with Bally Distributing and Atari where he became a Vice President and excelled at persuading Distributors to buy coin-operated video games. In 1984, Ed's good friend and Atari cohort, Jerry Marcus, persuaded Ed to join him in forming Atlas Distributing, Inc. For the next 20 years, Atlas was one of the largest and most successful coin-op distributorships in the United States, with offices in seven states across the Midwest.
While owning and running Atlas Distributing, Ed also managed the development of coin-op video games with his brother, Frank Pellegrini, through their company P&P Marketing, Inc. In addition, Ed purchased the assets of an operating company to create Dandy Amusements International, Inc. In 2001, Ed co-founded Team Play with his brother to develop a coin-operated photo booth, photo booths for events, video games and a variety of redemption games. In 2005, Ed collaborated with a group of partners, including Ken Fedesna and Frank Pellegrini, to create a sensational portable countertop game for White Rabbit Game Studio and TouchTunes Music Corporation.
Today, Ed still owns and manages Dandy Amusements International. From offices in California and Illinois, Dandy Amusements operates over 7,000 video games, redemption games and coin-operated photo booths in movie theaters, restaurants, family entertainment centers, and other locations throughout 22 states nationwide.
As a result of his decades of Distribution and Operation experience, Ed has a wealth of knowledge about how best to market Team Play's photo booths and redemption games. He is responsible for managing Team Play's National Accounts and contributes to the development of its redemption games.
Ed brings to Team Play his extensive knowledge of the Distribution, Operation, Design and Development aspects of the coin-op video game industry. Ed is happily committed to realtor Diane Christianson and has two daughters, Kimberly and Brittany.