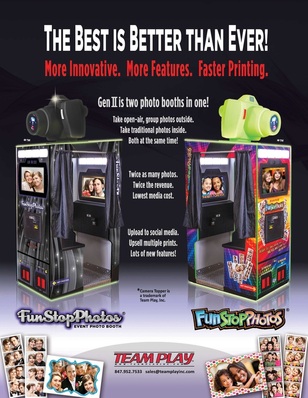 The once lovely Fun Stop Photos photo booth was lying on the ground – crunched, smashed, totaled, ruined, destroyed, and annihilated.  Onlookers wondered, "Is it dead?"
It sure looked dead.
Despite thunderstorms and ugly weather, Team Play's VP of Marketing, Geno Giuntoli, valiantly traveled from Team Play's offices in Elk Grove Village, Illinois to Minneapolis.  He would be exhibiting Team Play's enormously popular Fun Stop Photos photo booth and hit videmption game, Fishbowl Frenzy, at Moss Distributing's 2015 trade show.  At least, that was the plan.
Imagine Geno's despair shortly before the show opening when he learned that the photo booth had been dropped.  If the photo booth was damaged, there would be no way to get a replacement photo booth to Minneapolis in time for the show opening the next day!
Tragically, the photo booth was not "dropped" as in drop shipped or dropped off early.  Not "dropped" as in dropped off its pallet or tipped over.   Not even "dropped" as in dropped off a forklift.  This Fun Stop Photos photo booth had been Dropped – with a capital "D" – off the bed of a semi‑truck four feet in the air, onto the unforgiving concrete pavement below.   That's a pretty serious event for a heavy and complicated photo booth which sports two LCD monitors, two digital cameras, and an assortment of hard drives and sensitive electronic components!
After tumbling its full 500 pounds off a truck and falling over four feet onto the rock-hard concrete below, Geno's Fun Stop Photos photo booth lay on its back, winded and wounded.  (Fortunately, no humans or animals were injured during this event.)
Was it dead?  It sure looked dead.
Moss employees and helpful manufacturer reps righted the booth onto its wheels and pessimistically rolled it into the trade show.  Geno looked on with a sick stomach, wondering what to do about this fiasco.  How was he going to report that he traveled all the way to Minneapolis and was unable to show Team Play's prized photo booth to Moss Distributing's customers?
Damaged corners.  Splintered plywood.  Scratched decal.  But, monitors intact.  Hmmmm…  In an act of desperation, Geno decided, "What the heck? It's worth a try."  With shaking hands and a heavy heart, he plugged in the damaged Fun Stop Photos photo booth, turned on its switch, said a few prayers, and waited . . .
The Fun Stop Photos came to life and worked perfectly!!
And, the trade show was a huge success!
THE END.
A happy ending to this story is more likely to happen with Fun Stop Photos than any other photo booths for sale!
Team Play purposely manufactures the cabinet of its Fun Stop Photos' photo booths with plywood, instead of sheet metal sides.  We think that plywood – never pressboard – cabinet walls provide better strength and damage resistance than sheet metal, which would have been dented or collapsed beyond repair by such a fall.
In addition, the plywood components of a Fun Stop Photos photo booth cabinet are readily replaced if they sustain a dent or bruise.  There's no need to replace the entire Fun Stop Photos cabinet as a result of every shipping fiasco!
Sheet metal sides are a bad choice for a photo booth.  But, the structural metal frame of Fun Stop Photos is the best choice for a photo booth.  The heavy duty metal frame of Fun Stop Photos gives the cabinet terrific strength.  And, the photo booth's wheels are bolted into this metal frame, to ensure that they stay upright and strong.
Not only is Fun Stop Photos the most innovative and highest earning photo booth in the industry, it's the most reliable and durable.  It offers the lowest ongoing operating costs and is the best value for your investment.  So, go ahead and ship your Fun Stop Photos.  You have the best and strongest coin-op photo booth available!
Nonetheless, Geno recommends that you probably should save yourself some worry and skip the four-foot drop test.
---
For information about Team Play's Fun Stop Photos coin-op photo booth, visit www.teamplayinc.com. Go to Distributors to find a Team Play distributor near you.  Email us, or call 847-952-7533.