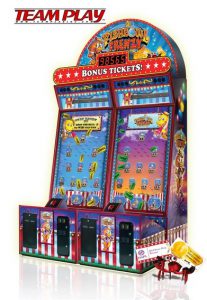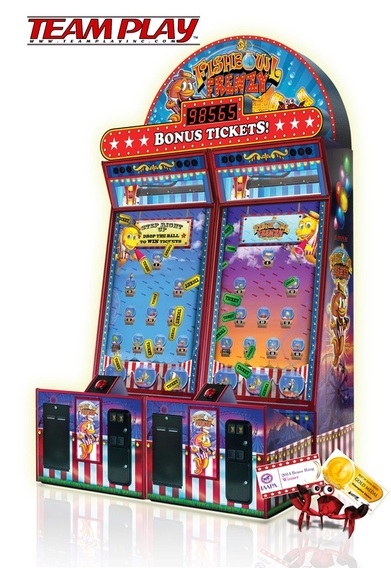 Just when you thought it was safe to get back in the water… Team Play has announced that its new Progressive Conversion Kit for Fishbowl Frenzy will be released at Amusement Expo Booth No. 1123 in Las Vegas on March 24-26.
If the stand-alone Fishbowl Frenzy is any indication, then a Progressive version should be truly extraordinary.  Fishbowl Frenzy already won the IAAPA Brass Ring Award for Best New Coin-Op Product and is considered to be one of the best redemption games ever created.  But Team Play expects that customers will be even more impressed with the Progressive version.
The Fishbowl Frenzy Progressive introduces a series of challenges of increasing difficulty which players must overcome in order to win the big prize.  With each game played the prospective reward increases, until the potential ticket win reaches the operator-selectable maximum.
Simply by purchasing a Progressive marquee and replacement hard drive, locations will be able to link multiple Fishbowl Frenzy games to provide players on each of the linked games with the opportunity to win the Progressive Bonus.  This will allow the location terrific flexibility, because the games can be operated individually or converted into a Progressive to suit the location's needs.
Team Play anticipates huge demand for the Progressive option.  Fortunately, production of Fishbowl Frenzy is going smoothly.  Manufacturing output has been increasing every week, and Team Play expects to be ready for the onslaught of orders likely to be generated at Amusement Expo.
So, if you only have one unit of Fishbowl Frenzy at your location, this would be a good time to order more.  You're going to want to be ready to convert to a Progressive just as soon as those conversion kits become available!
Until then, players will line up for their turn to play Fishbowl Frenzy while 3D fish jump for joy, because the Fishbowl Frenzy Progressive is coming to Amusement Expo.
---
Click for More Information About Fishbowl Frenzy or to Find a Team Play Distributor near you.