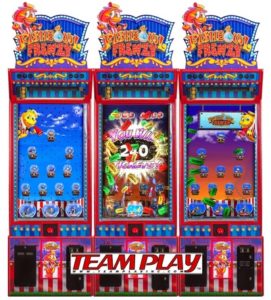 Team Play has completed shipping its new Fishbowl Frenzy™ videmption game to every Dave and Buster's™, the first chain of entertainment destinations to receive the new augmented reality, videmption game.
Fishbowl Frenzy's arrival at Dave & Buster's has been quite the subject of discussion online, and has been featured in hundreds of YouTube videos.
Team Play reports enormous U.S and international demand for Fishbowl Frenzy, production of which only recently started. Dave & Buster's was kind enough to quietly test Fishbowl Frenzy prototypes at two of their locations. They were so happy with the test results that they ordered units for all of their stores before the game was even in production!