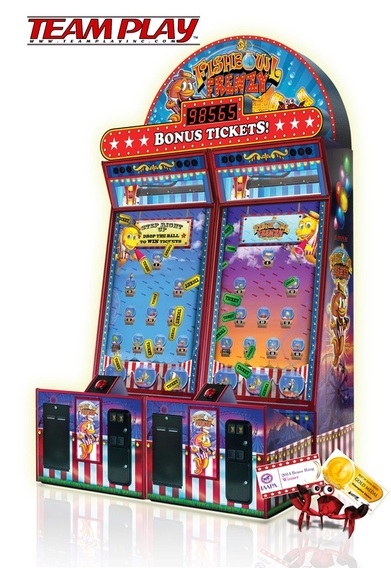 Elk Grove Village, IL, March 23, 2015  – Team Play is pleased to announce that its hugely popular Fishbowl Frenzy™ has won the 2015 Best of Show "Gold Medal" Award in the Videmption Games category!  A Gold Medal is the highest award issued by the Best of Show Arcade Machine Awards (BOSA) which recognize creativity and innovation within the amusement industry.  Judging is based on playability and enjoyment, originality and uniqueness, market relevance, earning potential, and game pricing.
This is not the first time that Fishbowl Frenzy has been recognized for its innovative technology, entertaining game play, and market appeal.  Fishbowl Frenzy also won the 2014 IAAPA Brass Ring Award for Best New Coin-Op Product in November.  Since then, operators have reported that the game's earnings are outstanding, with Fishbowl Frenzy consistently ranking in the Top 5 and often occupying the #1 earning position.
On the heels of winning the IAAPA Brass Ring and BOSA Gold Medal Awards, Team Play will debut its new "Progressive Jackpot" version of Fishbowl Frenzy at Amusement Expo in Las Vegas on March 25.  The Fishbowl Frenzy Progressive introduces a series of challenges of increasing difficulty which players must overcome in order to win the big prize.  With each game played the jackpot increases, until the potential ticket win reaches the operator-selectable maximum.  Regardless of configuration or the number of units linked, Fishbowl Frenzy remains strictly a game of skill.
Beginning in April, operators will be able to purchase a Progressive marquee and replacement hard drive in order to link two, three or four Fishbowl Frenzy games.  So, this would be a good time to order additional units of Team Play's award‑winning videmption game, Fishbowl Frenzy! Just go to www.teamplayinc.com to find a distributor near you.
In the meantime, lobsters will dance as adorable 3D fish jump for joy, because being the 2015 Best of Show "Gold Medal" winner for Best Videmption Game is well worth celebrating!