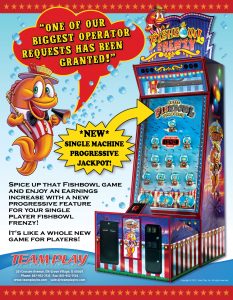 After countless requests, we have finally created a way for owners of a single Fishbowl Frenzy game to get the awesome Progressive Jackpot Bonus Feature that has been available when you link multiple Fishbowl Machines together!
The Progressive Jackpot is won by dropping your ball into the fishbowl that contains one of the letters to spell out the word FISHBOWL. This jackpot is completely adjustable with a minimum and maximum setting as well as a difficulty setting. Players just can't walk away from the machine knowing they only need 1 or 2 more letters to win big!
There may be a lot of fish in the sea, but at a price of $495 you can't miss this one!
For more information contact a distributor near you, or give us a call!