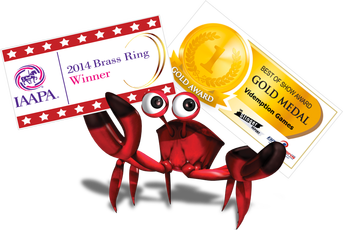 Step right up!  Everyone's a winner with Team Play's new Fishbowl Frenzy™ augmented reality, ticket redemption game:  Winner of the IAAPA Brass Ring Award for Best New Coin-Op Product and 2015 Best of Show "Gold Medal" for Best Videmption Game!
Already considered to be one of the best redemption games ever created, Fishbowl Frenzy combines festive carnival fun with adorable 3D animation and 65 inches of high definition, transmissive LCD, to create quick, addictive game play that is fun for everyone. The fish are jumping for joy over Fishbowl Frenzy!
Look for Fishbowl Frenzy™ at a Team Play distributor near you, and place your order now!