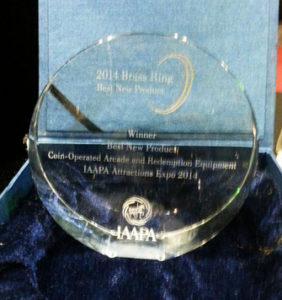 Team Play is delighted to announce that Fishbowl Frenzy™ has won the 2014 Brass Ring Award for "Best New Product" in the Coin-Operated Arcade and Redemption Equipment category at the IAAPA Attractions Expo in Orlando, Florida!
Prior to its official release at IAAPA, Fishbowl Frenzy™ had already caused quite a stir among those who caught a sneak peek of Team Play's new augmented reality ticket redemption game while overseas at EAS and ENADA.
And, there was plenty of excitement in Orlando, Florida earlier this week, where Fishbowl Frenzy debuted to an enthusiastic crowd.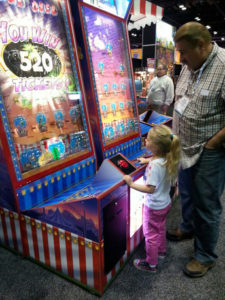 Test earnings of the prototype placed Fishbowl Frenzy solidly within the top ten earning redemption games, with its ranking climbing every week. The consensus among everyone who has seen Fishbowl Frenzy is that it is an exceptionally great game.
"We've been told that this might be the best redemption game ever created," said Team Play's COO, Ken Fedesna. "Winning the Brass Ring Award further confirms what we have been hearing – that people really like this game."
Team Play started fulfilling the pre-production orders for Fishbowl Frenzy earlier this month, shipping in the sequence that orders were received. So, if you haven't ordered your Fishbowl Frenzy yet, catch up with your competition and get in the queue! Go to www.teamplayinc.com to find a Team Play distributor near you.
In the meantime, the lobsters will dance as 3D fish jump for joy, because being the best new coin-op product at IAAPA is well worth celebrating!