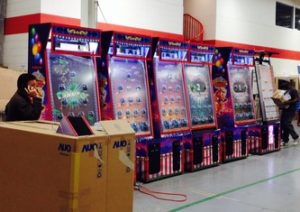 Team Play is happy to report that its new Fishbowl Frenzy™ augmented reality redemption game is in production, full speed ahead, and is now shipping.  The past couple of weeks – and weekends – have been extremely busy in Elk Grove, where the Fishbowl Frenzy ticket redemption arcade game is being assembled.
Fishbowl Frenzy's innovative new technology and excellent test earnings reports fueled a flood of pre‑production orders for the new redemption game.  Fortunately, Team Play has been able to plan for the huge demand, because our coin-op distributors and chain video arcade accounts stepped up early and placed their orders before production even started.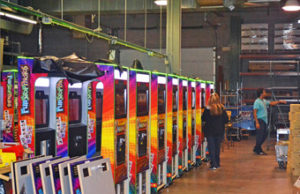 At Team Play, we knew that we would have to expand operations to accommodate the Fishbowl Frenzy arcade game.  All summer, Team Play's Gen II Fun Stop Photos photo booths have been selling as fast as we can build them, and every spare inch of our warehouse has been dedicated to photo booth assembly.  There was no option but to move Fishbowl Frenzy into its own warehouse.
The enormous popularity of Team Play's Fun Stop Photos photo booths and the warm reception received by Team Play's Fish Bowl Frenzy redemption game have been very exciting!
National video arcade accounts are being shipped their Fishbowl Frenzy redemption games first.  Distributors will start receiving their games in the sequence that they placed their orders.
Meanwhile, if you haven't placed your order for the Fishbowl Frenzy arcade game and Fun Stop Photos photo booths, then you're falling behind your competition.  The Fishbowls are shipping, so it's a great time to get your order in the queue!
---
To order your Fish Bowl Frenzy arcade game, click to find a Team Play distributor near you!  Learn more about Team Play's photo booths for sale.  Feel free to call Team Play at 847-952-7533 or email us.  We look forward to hearing from you!