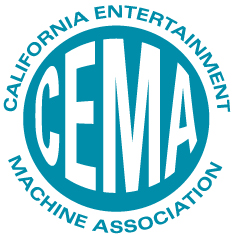 Staying a little closer to home this week, Team Play's new Fishbowl Frenzy™ and Gen II Fun Stop Photos™ photo booth will be appearing in California on Thursday.  Team Play was invited to participate in the 2nd Annual California Entertainment Machine Association (CEMA) Spotlight Show 2015 in La Mirada on January 22nd.
We are delighted to support the California association again this year.  Team Play co-owner, Ed Pellegrini, and long-time customer, John Lemieux of Dandy Amusements International, will be on hand to talk with operators about Team Play's new, top-earning, coin-op products.
Dandy Amusements currently operates over 200 units of Fun Stop Photos.  They have tried every photo booth on the market and strongly believe that the Fun Stop Photos booths are superior to all other photo booths for sale.  So, while you're at CEMA 2015, be sure to ask John Lemieux about photo booths!
Team Play also will exhibit Fishbowl Frenzy™, which always is a crowd pleaser.  If you haven't heard about Team Play's new videmption (video redemption) game, then you haven't been paying attention.  And, if you haven't seen Fishbowl Frenzy in person yet, this is your chance!
Visit the CEMA 2015 Show at the Holiday Inn in La Mirada, California on Thursday, January 22, 2015 from 1:00 to 6:00 p.m.  Enjoy some gorgeous, sunny, California weather and check out the two, top-earning, new coin-op products from Team Play . . . because Fun Stop Photos and Fishbowl Frenzy bring gorgeous earnings and sunny days to every location!